The forecast for this weekend is looking really poor! That being the case it is time to start thinking about the PBA Winter Baseball Camp at Lloyd Nolan Yard. Our camp is open to kids from the ages of 5-17 years of age and ballplayers of all skill levels are welcome to attend. The coaching staff at PBA believes that this camp program has helped develop Lethbridge into a nationally recognized baseball city.
Each November for the past decade, PBA has started up their Winter Baseball Camp.This camp began as a simple way for ballplayers in the city to stay sharp over the winter months. Since that first year, this camp has grown to include over 130 participants (in 2018/19) including 23 beginners in the 5-8yr old age group last year. Nobody on this coaching staff could have imagined what this program would grow to become, and now our camp is a staple year after year in this community.
For the families who have not been a part of our camp program, here is our basic philosophy that we follow each week:
Build Arm Strength Safely - The Prairie Baseball Academy has developed a safe throwing program to help youth ball players build arm strength. We throw every single camp, which means some campers will throw once per week, and others will throw twice.
Footwork and Agility - We believe that footwork is one of the most overlooked aspects of coaching youth baseball. We work diligently with our campers on their footwork and agility as it relates to baseball skills.
Infield/Outfield - The way our indoor facility is designed, it is much easier to do infield work than outfield. That being said, we have developed drills and games that work on both skills. Our coaching staff alternates which nights we work fielding, and which nights we hit. This way whether you choose the 1x/week or 2x/week options your son or daughter should be working on something different each camp.
Hitting - The Prairie Baseball Academy has some of the best hitting instructors around. We have two full size batting cages that can be split in half to make four separate hitting stations. We love to hit, and last year we implemented two brand new pitching machines into our camp program that the kids very much enjoyed hitting off of.
Pitching - We do not start pitching instruction until after the winter break. We don't believe it is beneficial to be pitching off a mound all year round, these kids arms need a break. Come the new year, we will rotate in pitching technique with all of the campers who wish to work on pitching.
Games - Our coaching staff strives to keep these camps fun AND informative. The last thing we want is for our campers to dread coming to camp each week. We always try to finish off camps with some sort of game that works on baseball skills. We have plenty of games we play to keep camp sessions fresh.
To register your son or daughter online please CLICK HERE
See our PBA Winter Camp flyer below: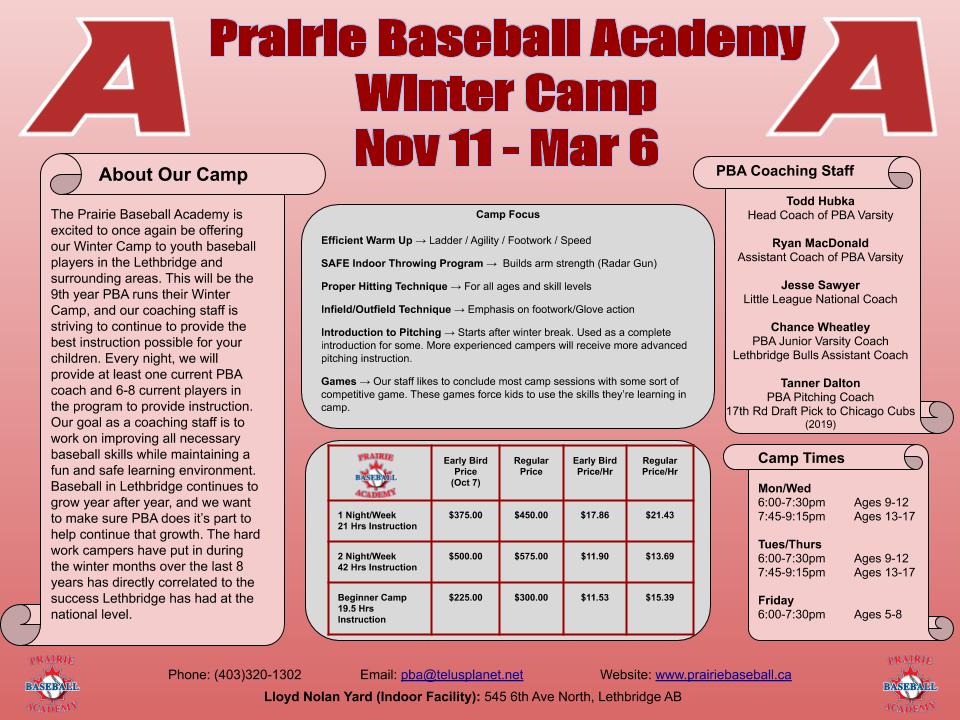 If you have any questions or concerns whatsoever about our camp program please do not hesitate to contact us at 403-320-1302 or [email protected]