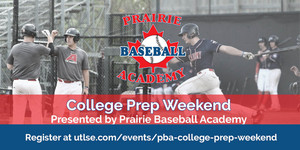 Prairie Baseball Academy has decided to postpone our College Prep Weekend.
With the forecasted low temperatures and snowfall, as well as the COVID-19 restrictions for both the University of Lethbridge and the Lethbridge College, we will be pushing the College Prep Weekend to April 2021. The date is undecided right now, but keep checking back for updates!
For more information on the College Prep Weekend, Click Here.