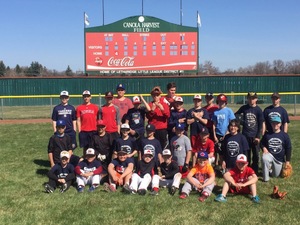 Kids from around Southern Alberta came to PBA last week to enjoy a camp during their Easter break. The weather was beautiful and the kids were awesome. In the mornings the kids worked on their infield and outfield skills as well as some baserunning. The kids got a chance to play on the PBA Varsity field which was a first for everyone involved. The coaching staff at PBA was thrilled to have the turnout we did, and having such an enthusiastic group of campers made it an enjoyable week for everyone.
In the afternoon the kids got a chance to work on their hitting skills at the Canola Harvest Field. The kids hit on the field each day, which doesn't happen a lot in youth baseball. Most times kids only get to hit in the cages. The chance to try and hit one out of the park in batting practice was exciting for the campers.
The camp finished up each day with a modified game to simulate game like situations. Once again the kids did a fantastic job. Hustling on and off the field, making plays, and even a couple homeruns were the highlights of the games during the week.
The Prairie Baseball Academy looks forward to instructing more camps during the summer. Please contact the program at 403-320-1302 or at [email protected] if you are interested in signing your son or daughter up for one of our camps.